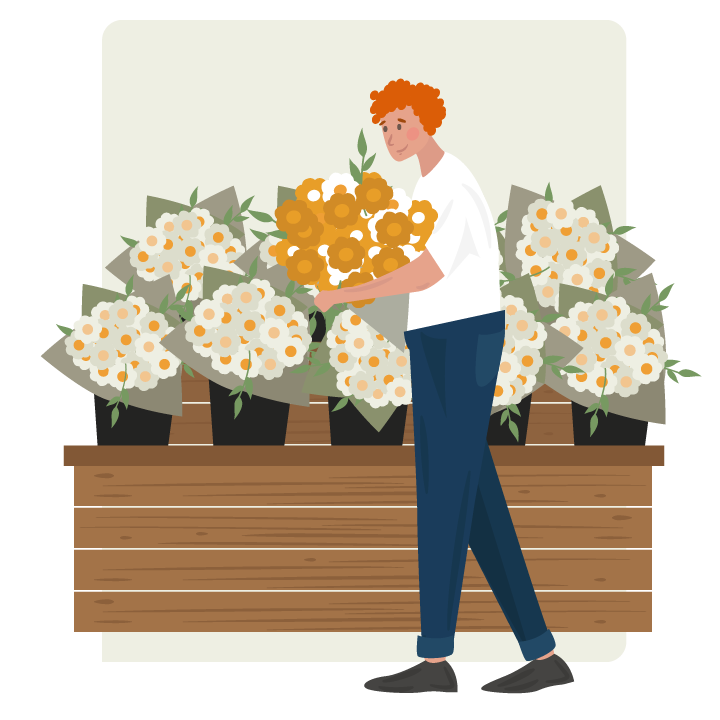 Hello. I am Grüner Thomas, nice to meet you!
- News
Published: Tuesday, February 9, 2021
Source:
Hello, my name is Thomas, but my friends also call me Grüner Thomas. Welcome to my platform. I am here to help you order flowers and plants. You can wake me up for that any time of the day! And feel free to do that as often as you want, because I will also keep you informed of the best offers here!

As a customer of IBH you can view and order all kinds of offers from me, wherever and whenever you want. In this way I would like to help you with your work, and make it as easy as possible to supplement the range in your store.
How does it work? With your own login you will automatically end up in your own account. There you will find all kinds of information, such as your order history, all your favourite products, but also things such as refunds. Everything you need or want to know can be found with me in an instant.
I have another tip for you. If you accept pushbird notifications, you can be sure that you will never miss a news item or great offer. You can arrange this by clicking on the orange bar on the right side of the screen.
So, nothing stands in the way of getting started now. If you have a question, you can always call me on 0297-386700 or send an email to webshop@ibh-export.nl.
Finally, I have something nice for you. Because ordering products is of course the most important thing I will help you with. But you can also check with me what the weather forecast is for your region. Handy, so you can keep this in mind when ordering. You will find the weather widget on the right side of your screen. Give it a try, just slide it forward and see what the weather will be like.
But that's not all, I will also keep you informed of current news from the horticultural sector and give you tips about trends and fun, beautiful or interesting products. I hope you will come and take a look at me more often with those extras!
So let's get started and see you soon!
Best,
Grüner Thomas